So much to talk about….
Visualizations
What story do you want to tell? But, more importantly, what actions do you want the reader to take? @PhyliseBanner says to try word clouds from wordle.net , check out Tableau for free data visualization tool.  Check out Tableau for free data visualization tool, and manyeyes.com for a great ressource of data sets. Also, watch out for tricky floats and integers (1.0 is not the same as 1) and remember that there can be an acceptable leading zero (i.e., ZIP codes).
Michael Opsteegh (@StubbornlyWrite) starts his talk about data visualization  with the morning paper and a Thin Man quote. He recommends reading webaim.org/resources/desi… for tips about accessible infographics and the Napkin Sketch Workbook by @FOGLIFTER blurb.com/b/1892410-napk…  I love that he included both editing and ethical considerations in his talk on infographics. And left us with two crucial tips: Don't misrepresent data. And… Correlation is not causation. @StubbornlyWrite. #stc13
Karen Mardahl (@kmdk) chimes in with a recommendation for Stephen Few's "Now You See It: Simple Visualization Techniques for Quantitative Analysis". ow.ly/kP3T
Lightning talks
I did a 5-minute talk on the Mars Curiosity tweetup.  It was a blast! instagram.com/p/ZDfLz3jmvS/
There were also talks by Robert Hershenow (@RDHComm) on getting good audio recordings, @AndreaJWenger on building your personal brand, David Caruso (@dccd) on better presentations, and Jamie Gillenwater (@j_gillenwatter) on 101 things we love about Tech Comm.  Yes, 101 things in 5 minutes!
Karen Mardahl (@kmdk) uploaded her #STC13 lightning talk slides for us! "All you need is… Accessibility" slidesha.re/16e3yDM
Here's Rhyne Armstrong ( @Ninety7) who always includes wonderful pop culture references in his talks. "Oh the crap I've seen…"
Here is Andrea Aames (@aames) talking about careers in Interaction Architecture.  Nice graphic shows user-navigation-delivery-presentation-content.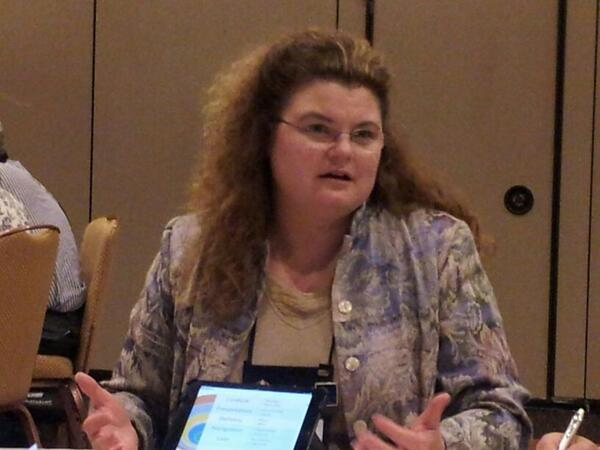 And yes, there was quite a bit of socializing available to all of us.  Here's my favorite picture of after-banquet "networking" with @jarljonas and another handsome man. pic.twitter.com/a33iKWqrXM