South by Southwest interactive festival was, as always, amazing.   Though she didn't get to stay very long, I did get to hang out with Phylise Banner a little bit.  We started at the reception for STEM to STEAM (that's adding "art" into the traditional STEM of science, technology, engineering, and math).  The event was sponsored by Adobe and the Rhode Island School of Design, and I got to meet the RISD President John Maeda, a designer and author I've long admired.  And yes, I got to have some fun with Phylise!
Continuing with the STEM theme, this is Cinderella, a robot that plays basketball. Built by high-school kids.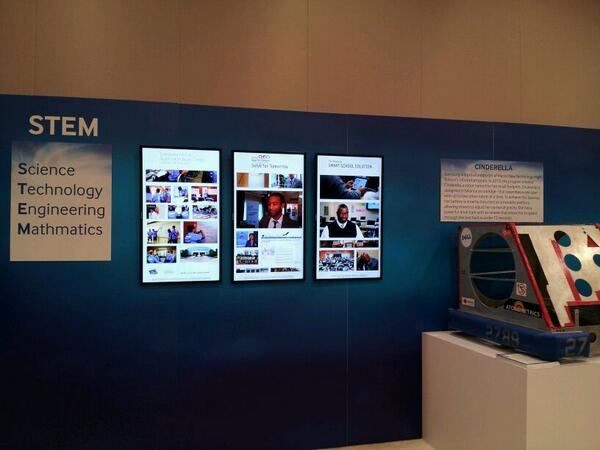 I got to see several space-related sessions this year.  "NASA: Sharing Space" with astronaut and photographer @Astro_Ron and John Yembrick, NASA's Social Media Manager, was a lot of fun.  At one point, the JPL panelists even pulled someone from the audience – @tweetsoutloud (Mohawk Guy) – to get up to join the panel.  John Beck-Hoffman talked about how he produced, directed, & scored the "7 Minutes of Terror" video.  There was also a lot of buzz about various contests that help engage the public, including @nasaprizes for space related challenges,  spaceappschallenge.org, and video contest "Why Space Matters?" visitnasa.com/contest.
There was spaciness everywhere – they had a life-size replica of the James Webb telescope AND a photo of my own personal favorite, Curiosity.  Here I am with Stephanie (@stephist) and MSL: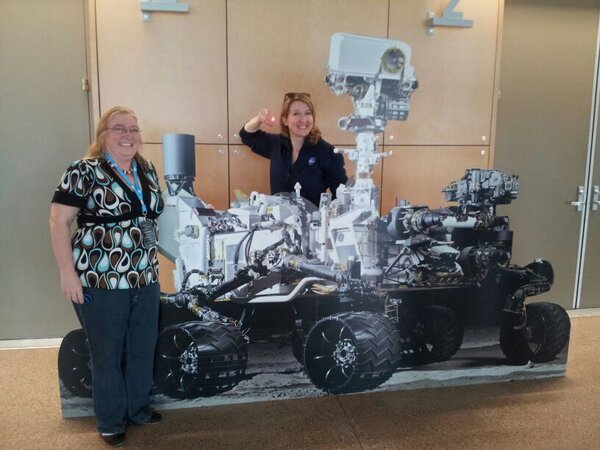 I also saw the panel about the 100 Year Starship program.  This is a DARPA-funded project run by former astronaut Mae Jemison, with the premise that if we are ever to visit other worlds, it will likely need to be a multi-generational mission.  In order to prepare for this, we're going to need to fix a whole bunch of stuff here on this planet first.  From their website:
Travel to the stars will require: the development of revolutionary non-chemical technologies to generate, harness, control and store enormous quantities of energy safely; radical advancements in closed-loop life-support systems and sustainable habitats; new insights into human development, health, behavior and training; quantum leaps in agriculture, communication and handling massive data sets; advances in robotics, automation, intelligent systems, and manufacturing techniques; as well as deeper, robust understanding and innovative approaches to social structures, education, economics and finance, legal frameworks, politics and international collaboration.
All the capabilities needed to accomplish human interstellar travel are the same ones required for successful human survival.
Want to learn more? 100yss.org has public symposium every year, open to everyone.
In addition to Mae Jemison, the panel included one of my favorites, LeVar Burton.  He's a big supporter of the project, particularly the part about educating kids now about science and space.  I got a chance to chat with him after the panel, and he was kind enough to pose for this picture.  Here's me, @levarburton, and @wilw. Sort of.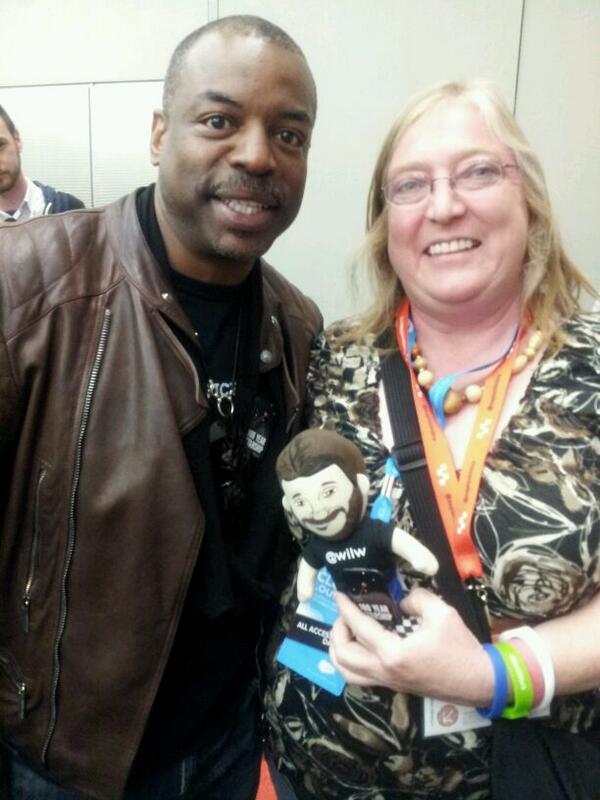 There were also tons of people talking about visual communication in a variety of forms.  This starts with design (like in @BrianKSullivan's Design Like Da Vinci talk ow.ly/iMG13) and includes things like social story telling (see the slides from @markwilliams and @Carribugbee) as well as several talks by and about cartoons and comics.  From the Matthew Inman keynote:
"I'm not a cartoonist. I'm a stand-up comedian whose stage is the web." – @TheOatmeal
I particularly enjoyed the talk by Jody Culkin on Comics in the DIY/Maker World.  I ended up with tons of links to explore later.  Some tools: Inkscape.org, gimp.org are free; comiclife.com is low cost. "e is for Electonics" is a downloadable instructional coloring book.
There were also talks on "Big Data" and content strategy and maker spaces. At one of the maker spaces, I actually got to make a light-up fabric design with conductive thread, a battery, and a lightbulb.  The folks at Sparkfun liked it so much, they gave me an Arduino WITH Lilypad sensor set.  It was very cool.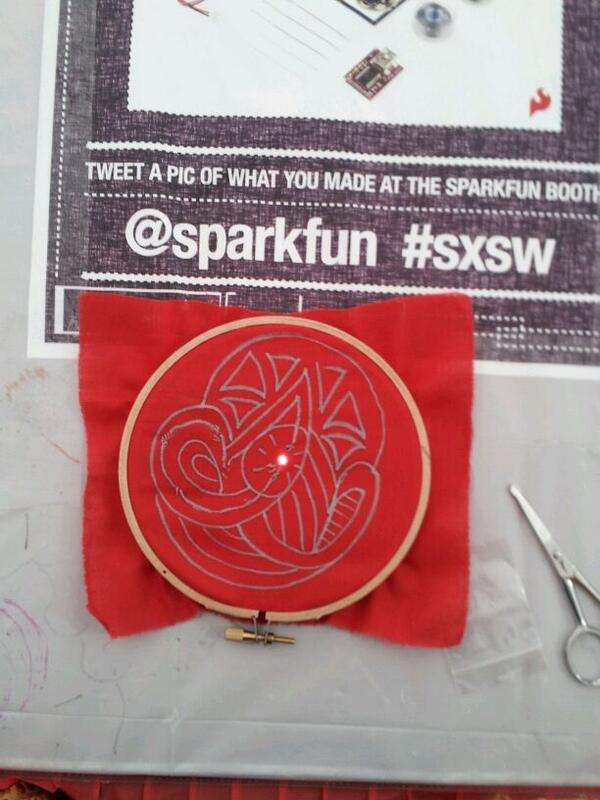 And of course, there was tons of other swag.  Most of it, I ended up shipping home.  As you can see, there are tons of books (most of them autographed) and tshirts, but also lots of other cool stuff.  Including an iPad mini. Thanks, eSurance!
And now, lest you fear that I spent the whole week buried in educational sessions and learning opportunities, here are a few pictures of a few of the friends who were there:
I had a lovely breakfast with Sara Moore, but we forgot to get a picture.  Guess where she works.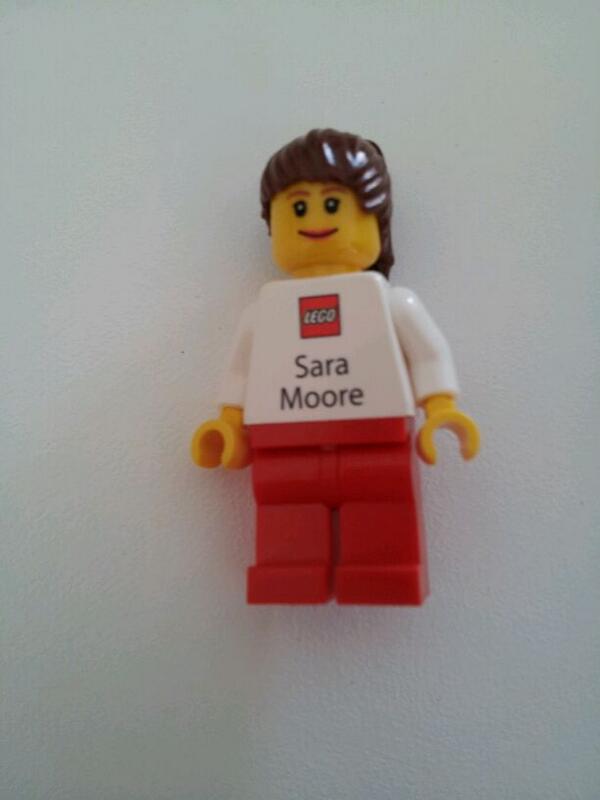 With Shari Crisan (@sharisorina)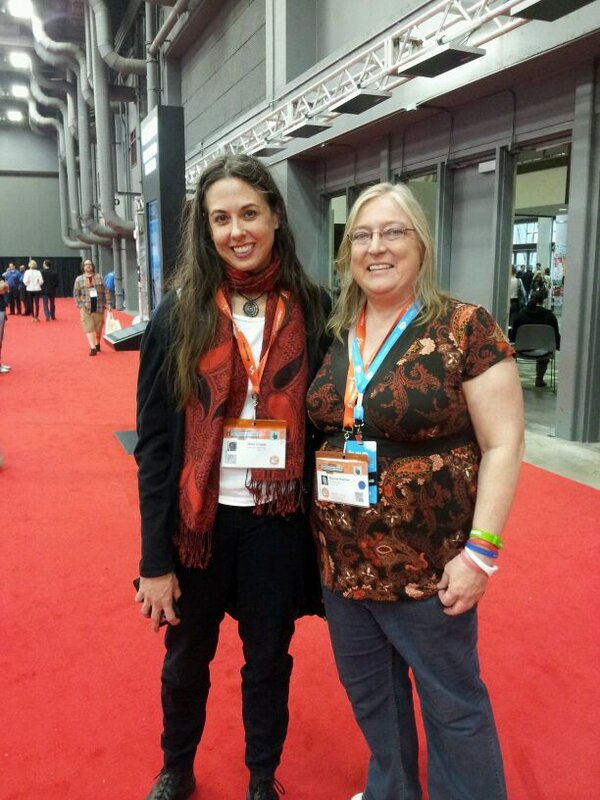 Talking content strategy with @mollydotcom, @BrianKSullivan, @ShariSorina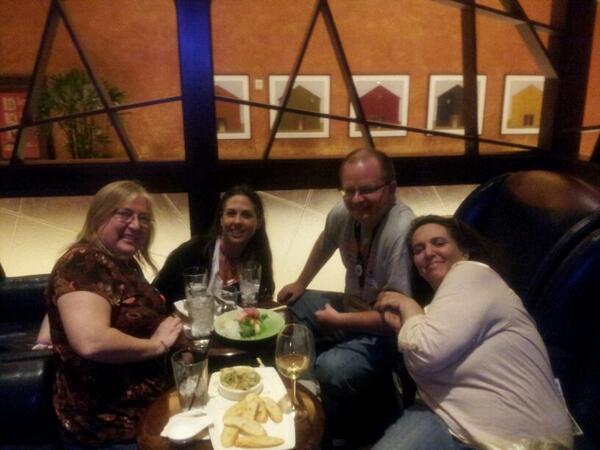 With filmaker and teacher Humberto Perez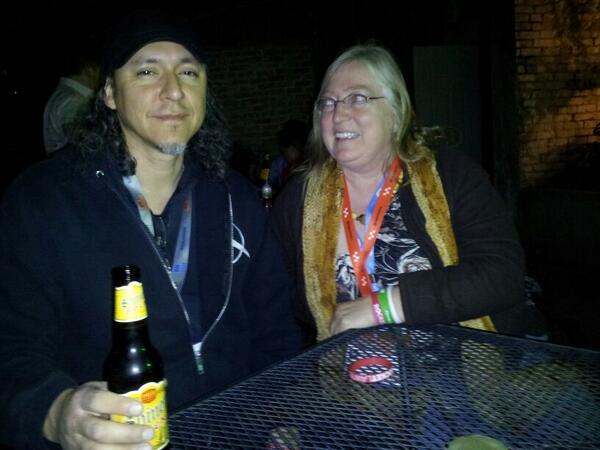 With librarian and fellow Tucsonan Lisa Bunker (@mutabilis)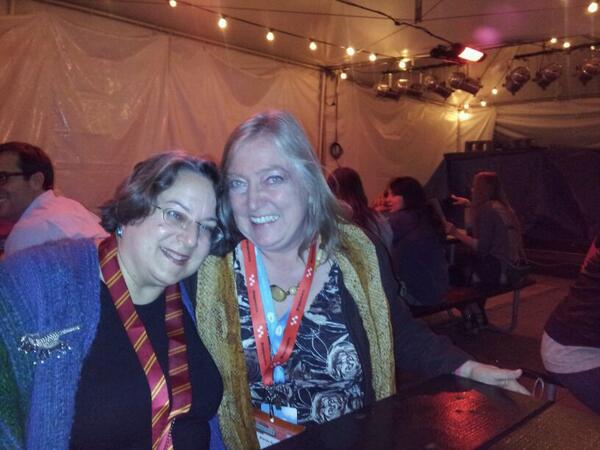 With Robert Muerte (@BlueGlobeTravel)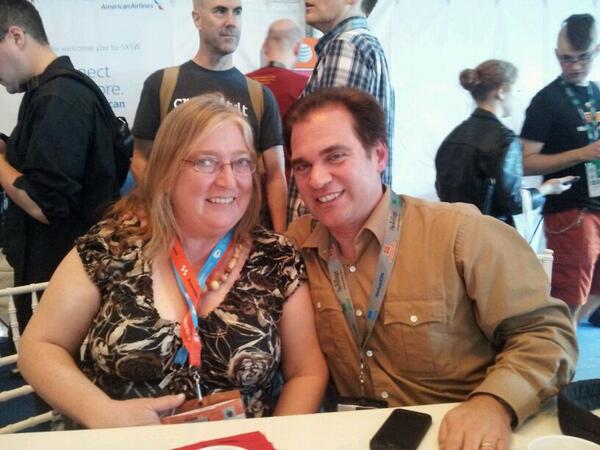 And of course there were others who couldn't make it.  I really wish @AVClubVids was there to help push through the crowds (and just to make me laugh).  I wish my Irish buddies @iainmullan and @PawrickMannion could have made it – Sxsw wasn't  the same without them!  I also missed hanging out with @johnhedtke, @rahelbailie, @annegentle, and @alanjporter, but luckily, I get to see THEM at other events.