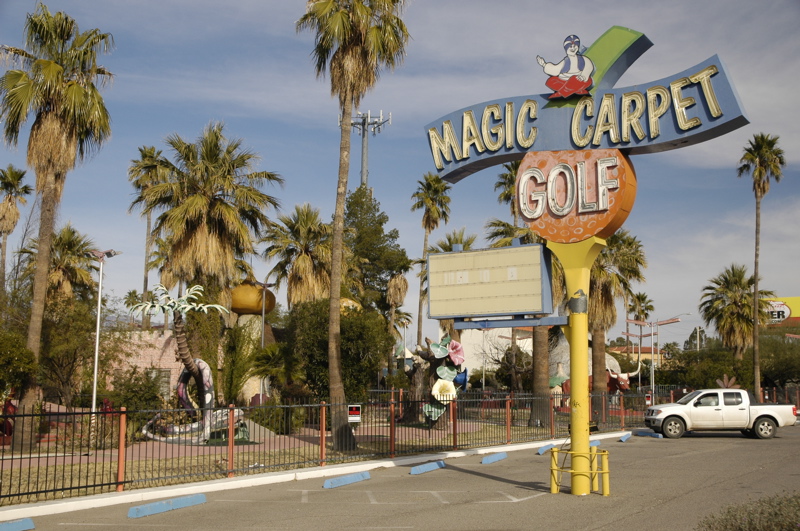 Yesterday I posted a note that I had just adopted a giant concrete monkey statue from Magic Carpet Golf. It didn't even occur to me at that time that people might think I was joking – that it was all one big April Fool's Joke. But I wasn't joking, and YES, I really did just adopt this monkey.
Some background:
In the late 1960s/early 70s, a man named Lee Koplin built two miniature golf courses on Speedway in Tucson and opened up "Magic Carpet Golf". Each hole had a different (usually gigantic) concrete and stucco sculpture, many of them modeled after the "Goofy Golf" course he had built in Panama City Florida. Fast forward 40+ years to late 2007: Magic Carpet is run-down and starting to look shabby, and other miniature golf courses in town offer more! better! faster! attractions for the same price. The owners decide to sell, and a local car dealership buys the primo property.
At this point, no one knows what's going to happen to the statues – clearly the car dealer wants the land for his CARS, not giant tiki heads. Rich Luhr was one of the people who went to take pictures of the course on the very last day it was open. He writes about it here (including a link to his Flickr set):
http://tour.airstreamlife.com/wordpress/?p=1137
Another year goes by, wherein the preservationists in town (and there are lots of them here!) try to find public spaces that are willing to take on the cost of moving and maintaining these statues. The largest, a 30-foot tall tiki head, has already been moved over to a tiki-themed restaurant called "The Hut" on Fourth Avenue.
Four others are slated to go to Valley of the Moon, a sort of fantasy-park. Finally, they decide to let the rest of the statues pass into private hands rather than be destroyed. THIS is what I've been waiting for! Bids are due by the end of March, so I get mine in and hope for the best. And my luck holds out: I WIN THE MONKEY! He even comes with the tree that he's hanging on. There was once a motor in his butt that made the tail swing slowly back and forth, but that's long gone. I'm told the eyes light up, but haven't seen that in person yet.
Now all I have to do is arrange for someone to cut him out of the ground, separate the monkey and tree, lift them onto a flat bed, drive over to the downtown house. He'll probably rest there (on his back!) for a while until I can get the new site properly prepared – slab, or footing, or something. Then "simply" stand him back up, re-attach the tree, and we'll be good to go.